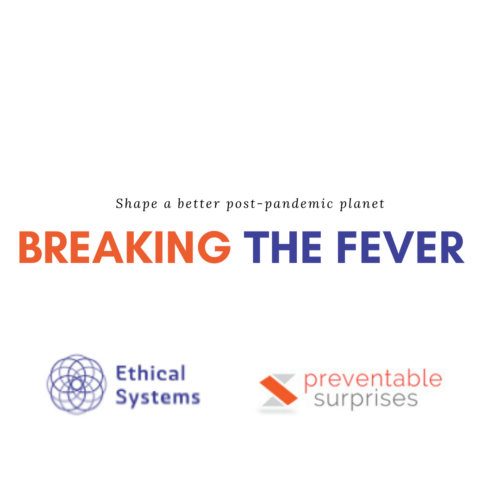 Preventable Surprises and Ethical Systems are pleased to invite you to Breaking the Fever, a podcast and online conversation series about shaping a better post-pandemic planet. We are convening thoughtful and creative experts to stimulate ideas on what we can do as individuals and institutions to tame the pandemic today and to make our societies and economies more resilient tomorrow. 
Catch the podcast on Spreaker or via your usual podcast providers. Join our LinkedIn Group or follow our new Twitter for updates. 
Breaking the fever is taking a hiatus from live recordings this summer but we are producing new podcasts and will continue to release them on a regular basis. 
Past episodes:
Listen to "Breaking The Fever" on Spreaker.
In episode 19, we spoke to Dr. Uzodinma Iweala, CEO of the Africa Center, a cultural institution in New York City that serves as an intellectual hub for ideas about culture, business, and policy related to the continent. A physician and the author of two novels, most recently Speak No Evil, about sexuality, race, and cultural dislocation, and Beasts of No Nation, about an African child forced to become a soldier (which became a feature film released on Netflix), Iweala is well placed to reflect on how race, culture and class have shaped the COVID-19 crisis and life, in Africa as well as in the United States.
In episode 18, Breaking the Fever heard from Carlos Nobre, a climate scientist recognized for his work on biosphere-atmosphere interactions and climate impacts of Amazon deforestation. We speak about Covid-19, about the Brazilian people, the rainforest, biodiversity and climate, cattle and deforestation, and about changing global attitudes and the solutions investors, governments, companies and consumers from Sweden to China can promote.
What does it take for people and organizations to navigate uncertain times? In episode 17, Margaret Heffernan took Breaking the Fever on a wild ride on the occasion of the US September release of her latest book, Uncharted. A timely, astute, energizing. much needed conversation. Read what our partners at Ethical Systems took away from the conversation.
In episode 16, Ayin Jambulingam, a culture and leadership consultant based in Malaysia, explores the historical, political and cultural factors driving the Covid-19 response across Asia.
We spoke consipracy theories with Rob Brotherton on 7 July, a more subtle and nuanced conversation that we'd like to think. Professor Robert Brotherton studies the psychology of conspiracy theories, including political attitudes, distrust, belief formation, and magical thinking more generally at Barnard College.  See his latest book: Bad News: Why We Fall for Fake News
On 7 July, Akash Goel, Assistant Professor of Medicine at Weill Cornell Medical Center and human rights advocate, brought together his expertise in healthcare, food systems and human rights to illustrate the interconnectedness of our world and ways to make it more sustainable.
On 30 June, Gabriel Filippelli, Chancellor's Professor of Earth Sciences and Director, Center for Urban Health at Indiana University-Purdue University Indianapolis, took on the climate challenge. From tipping points to policy, from technology to anxiety, from consumption choices to communicating science, we embarked in an honest and far-ranging conversation informed by his decades as a scientist, academic and policy advisor in the US and abroad.
On 16 June, Jenny Vaughan, Human Rights Director at BSR spoke about the human rights response of companies facing the multiple challenges of Covid-19, economic crisis and social tensions. She drew from her conflict resolution background to explain how systemic issues with complex causes require multi-pronged solutions involving all stakeholders.
On 9 June: author and diplomat Navtej Sarna, former Ambassador of India to the United States, explained  how India is affected by the pandemic, the significant challenges and opportunities ahead, the state of the multilateral order, and made a call to keep the earth in its operating safety zone.
On 2 June, JS Nelson, associate professor of law at Villanova University,spoke about her work on surveillance, management culture, and compliance. The workplace has seen a striking acceleration of surveillance-led management over the past several years, and the pandemic has given these efforts further momentum. JS Nelson described why these efforts are so counterproductive to organizational culture, human agency and human rights  in a far ranging discussion started with the history of slavery and ending with the current civil unrest in America (JS does not condone violence or looting, but speaks to the imperative to resist unnecessary surveillance). 
On 26 May, Preventable Surprises CEO Jerome Tagger presented the results of a survey of ESG influencers on the response to Covid-19. Raj Thamotheram engaged Prof Hans. V Hogerzeil, Chair, Expert Review Committee of the Access to Medicine Index, formerly WHO Director for Essential Medicines and Pharmaceutical Policies on the pharmaceutical industry's response to Covid-19.
On 19 May: Peter Christian Hall, spoke about his 2012 novel, American Fever: A Tale of Romance and Pestilence. In this episode, we talk about fiction, about history, the lived experience and how to navigate the medical and political unknown in the coming weeks and months. on pandemics, social change and imagining dystopia.
On 12 May, Charles Green, CEO, Trusted Advisors Associates, put people back at the center of the trust equation. A fascinating look at what it takes to give, and to receive, trust, in fractured times.
On 5 May, Dr. Jill Atkins, Chair in Financial Management, Sheffield University Management School, set the outline of a global agenda for finance, business and biodiversity – as the pandemic is increasing attention to the matter.
Episode 5 (28 April) featured Damon Silvers, special counsel at the AFL-CIO. From the echoes of corporate power in the 1920's to the reverberations of the 2008 crisis, from workers' rights to instability of the financial system, we covered so much ground. One takeaway: America's economic system was built to fail its people in a pandemic.
On 21 April  we welcomed futurist Ben Hammersley. "How Not To Be Super Wrong About Unknowable Things: Caveats, heuristics, and upsetting truths about thinking about The Future." Visions of the future are linear narratives, but reality is more complex. The future is not a destination, but people will sell it that way (over the past 20 years, futurism has mostly been about selling the exponential growth curve of technologies). Rather than make predictions about facts, it's best to develop frameworks that help organisations prepare for changes, and shared mental models to equip people to respond to events…and many more nuggets and illustrations. Michele Wucker joined the discussion.  Read: It's the Trolley Problem, Stupid! a follow up post Ben wrote with Preventable Surprises Founder Raj Thamotheram.
April 14th' episode featured Charles Hecker, Global Research Director at Control Risks. Charles is responsible for Control Risks' thought leadership on geopolitics, global security, political risk and their impact on international business, including the annual RiskMap process. He led a nuanced discussion on how Covid-19 affects political and security risk dynamics in 2020, revisiting Control Risks' 2020 Riskmap in light of these developments.
On April 7th, we were delighted to welcome Gillian Marcelle, PhD. a blended finance and international development expert, who led a conversation on reframing our shared understanding of innovation, resilience and systems change. Read her thoughts.
Opening the series on March 31st was Chicago-based strategist Michele Wucker, author of the international bestseller THE GRAY RHINO: How to Recognize and Act on the Obvious Dangers We Ignore. Her recent Washington Post article, "No, the coronavirus pandemic wasn't an 'unforeseen problem'" challenges the idea that the virus and related market meltdown are "black swan" events that "nobody saw coming."  We re-recorded this episode on May 18th.

Useful readings and videos:
On the risks to food supply chains:
On ecology:
On how the pandemic revealed failures in America:
Damon Silvers on the future of work through the lens of the gig economy and pandemic:
Bonitta Roy on a tale of two systems:
On finding meaning and creativity in adversity:
The US National Intelligence Council 2017 report had concerns about pandemics:
https://www.dni.gov/files/documents/nic/GT-Full-Report.pdf
The Great Lockdown: IMF's world economic outlook (April 2020):
Countries without lockdowns are in a state of economic free fall too (paywall):
https://www.wsj.com/articles/the-false-choice-between-lockdowns-and-the-economy-11586164745
Jane Goodall on Covid-19 as an opportunity to rethink our relationship to the natural world:
https://slate.com/technology/2020/04/jane-goodall-coronavirus-species.amp
Impact of non-pharmaceutical interventions:
https://necsi.edu/review-of-ferguson-et-al-impact-of-non-pharmaceutical-interventions
Duncan Austin's early warning on flattening the curve:
https://www.linkedin.com/posts/activity-6643495578170859520-N7Ez
Michele Wucker on the information we choose to share:
https://www.linkedin.com/pulse/covid-19-infodemic-michele-wucker-/
Peter Christian Hall on the decisions we face:
Margaret Heffernan on wilful blindness:
https://www.ted.com/talks/margaret_heffernan_the_dangers_of_willful_blindness?language=en
Psychology of Isolation and quarantine:
https://www.thelancet.com/journals/lancet/article/PIIS0140-6736(20)30460-8/fulltext
https://www.nytimes.com/2020/03/21/opinion/scott-kelly-coronavirus-isolation.html
Parenting and the workplace in confinement:
https://forge.medium.com/the-invisible-struggles-of-working-parents-are-now-live-in-video-chat-1734aa97bdc9
Yuval Hariri on the world after Coronavirus:
https://www.ft.com/content/19d90308-6858-11ea-a3c9-1fe6fedcca75
More on the long term changes in motion:
https://jfsdigital.org/2020/03/18/neither-a-black-swan-nor-a-zombie-apocalypse-the-futures-of-a-world-with-the-covid-19-coronavirus/ (highly recommended)
https://theconversation.com/coronavirus-three-ways-the-crisis-may-permanently-change-our-lives-133954
https://www.politico.com/news/magazine/2020/03/19/coronavirus-effect-economy-life-society-analysis-covid-135579
https://www.foreignaffairs.com/articles/2020-03-18/coronavirus-could-reshape-global-order
https://thinkinglikeahuman.com/2020/03/16/covid-19-and-conservation/