While Preventable Surprises has been focused on transition planning at utilities, we haven't neglected organisational development in house. In August, we hired a new CEO, David Murray, who joined us from Cycling UK, where he was head of campaigns and communications. In that role, he secured government funding through the Infrastructure Act facilitating walking and cycling. In an earlier position, as Green Party CEO, he helped the party secure its first-ever parliamentary seat in the 2010 General Election. He has also worked in leadership roles at the Ramblers, the Campaign for National Parks, and Cricket Without Boundaries.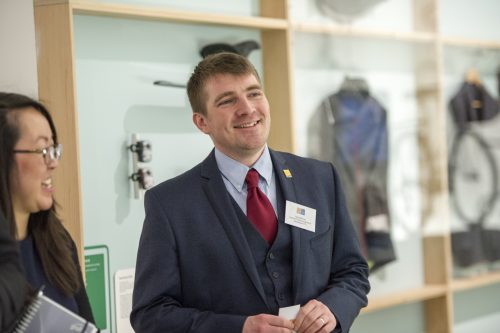 Q. What do you see as the common thread running through your career?
I'd say environmental sustainability and social justice are at the heart of my work, which in essence is to create positive change. My time at the Campaign for National Parks and the Ramblers reinforced my belief that the more time people spend in nature, the more likely they are to value it and stand up for it. A short stint at Cricket Without Boundaries, where we addressed taboo issues of FGM and HIV in rural communities in Africa, helped me learn about the challenges of influencing cultural norms. All of these roles will inform my work at Preventable Surprises in one way or another.
Q. Why did you join Preventable Surprises?
There aren't many organisations out there trying to make seismic, systemic change happen at pace in quite the same way as Preventable Surprises. The NGO world is a mosaic of efforts to take on a piece of the pie but, sadly, all of these efforts together are not managing to make change happen quickly enough. Preventable Surprises has a theory of change that gets beyond incremental "asks" and analyses the reasons why preventable surprises keep happening and what we can do to remove systemic barriers to change.
I also relish taking on the challenges faced by all small organisations—making ambitious plans for growth in terms of scale and impact while also ensuring our financial survival. I really enjoyed helping the Green Party grow its membership, funding base, and public profile. I hope I might do something similarly positive with Preventable Surprises over the years ahead. We are actively seeking funding support from philanthropic and foundation sources, so if you're one such prospective supporter, we would love to hear from you!
Q. How have you spent your first few weeks?
I've been building my ESG knowledge by reading The City: Inside the great expectation machine by Tony Golding and by browsing Responsible Investor's website. I have also been meeting with as many members of our positive maverick network as possible. They are helping me understand how our organisation fits within the wider ecosystem of think tanks, NGOs, consultants, and asset managers.
I've also been developing our campaign strategy for next spring's AGM season in the US. We are shopping around a proposed shareholder resolution demanding transition plans at US utilities, which we see as the low-hanging fruit of emissions reduction. We don't file resolutions ourselves but we work with filers to put up more demanding resolutions—then we try to generate investor support. We're also developing a short series of seminars in Europe to tackle the most polluting utilities operating over here.
Q. What has surprised you most on the learning curve?
I think it must be how open and supportive people have been as I ask my (sometimes embarrassing) questions about the inner workings of the ESG world and the investment business. All the people I have met to date have been willing to give their time and insights. I have had many offers of help with my own learning and our organisational development. It's also been very heart-warming to see the huge admiration and respect that people have for our founder and outgoing CEO Raj Thamotheram. His energy and magnetism have helped to make Preventable Surprises such a well-known and authoritative voice in the sector so quickly. And his ability to bind people and organisations together has helped to build a strong network of like-minded positive mavericks around our agenda.
Q. What most excites you in your new role?
The prospect of being part of a movement of mavericks who are engaging the world's largest investors on the most critical issues of our time. We are currently very much focused on climate change, but we are keen to expand our horizons to other environmental and social matters like biodiversity loss and executive pay. In each arena, we will challenge investors to become forceful stewards on behalf of their clients. When business as usual is so dramatically at odds with a sustainable financial system and a sustainable planet, investors have to become leaders, not laggards.